Calgary Bathroom Renovations
Bathrooms as we know them have only existed for the past 100 or so years. It was the 1920s when indoor plumbing and a full dedicated "bath-room" became part of new home construction. Since then the number of bathrooms in each home has steadily increased. Today bathrooms play a major role in the home. They offer relief, rest and relaxation, all while supporting our daily preparation and grooming rituals. Bathroom renovations are an opportunity to customize these sanctuaries in greater depth to better suite the needs of the family.
Some Of Our Projects
Bathroom Sizes & Layouts
Bathrooms are often defined by the number of plumbing fixtures they contain. Fixtures can also be referred to as pieces. They include any toilets, sinks, bathtubs and showers. The number of pieces in a bathroom are determined by available space and the intended purpose of the bathroom.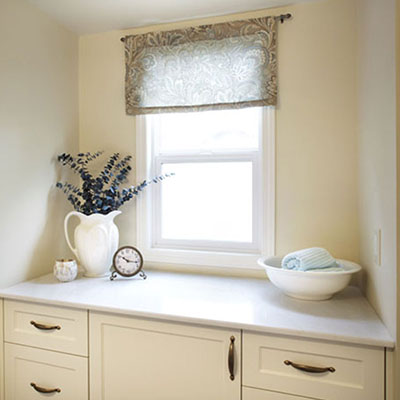 The Half-Bathroom
A "half bath" (sometimes referred to as a powder room) is a small bathroom that contains only a toilet and a sink. These are almost always located on the main level of a home and are intended to provide guests and visitors with easy access to toilet facilities. Since the mid-twentieth century half bathrooms have been incorporated in new home design. Due to their public nature they are one of the most frequently renovated rooms in the house. Half bathroom renovations are an opportunity for homeowners to make a statement with exceptional fixtures and design elements. Adding a half bath to a home often has positive implications on the resale value. We have seen many of these bathroom renovations in Calgary.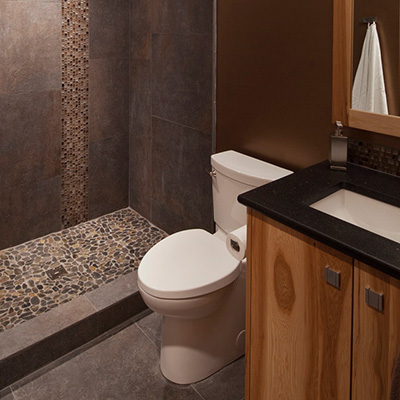 A Three-Quarters Bathroom
These are three-piece bathrooms that contain a toilet, sink, and either a shower or a bathtub, but not both. In houses with additional space on the main floor, a "three quarter bath" can replace the half bath as the main guest bathroom. In Calgary, a more common use of a three quarters bathroom is in the basement. They can be quite compact and still provide all the necessities.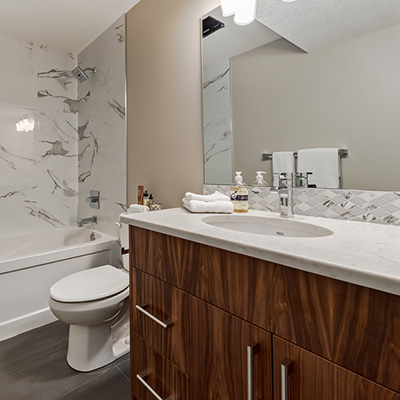 A Full Bathroom
A bathroom is only considered "full" if it has at least one sink, a toilet, a shower, and a bathtub. The very basic version of this is the traditional shower/bathtub combination with a toilet and sink. In a family home the main bathrooms are often shared. This has brought about some innovative design changes over the years to maximize the functionality and capacity of shared bathroom spaces. Some bathrooms close the toilet into a separate room within the bathroom. This allows others to continue to use the facilities without being interrupted when the toilet is required. It is also increasingly more common for main bathrooms to include double sinks on a shared vanity. Main bathroom renovations in Calgary generally involve modernizing the fixtures and updating the styles to match the rest of the house. There is a focus on comfort.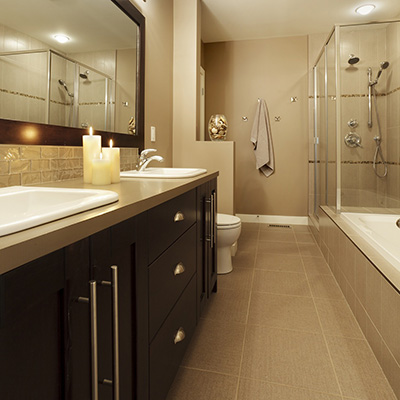 Five Piece Bathroom
A "five-piece bathroom" is technically any bathroom with five plumbing fixtures, but we usually use the term to denote a full bathroom with one additional piece. In Calgary the fifth piece is most often an additional sink, but it can also be a bidet or a urinal. Five pieces has become the new standard for master ensuites. Where space allows, many homeowners prefer separating the shower from the bathtub. With the goal of maintaining a comfortable atmosphere, the challenge with many Calgary bathroom renovations is maximizing the plumbing fixtures without crowding the available space.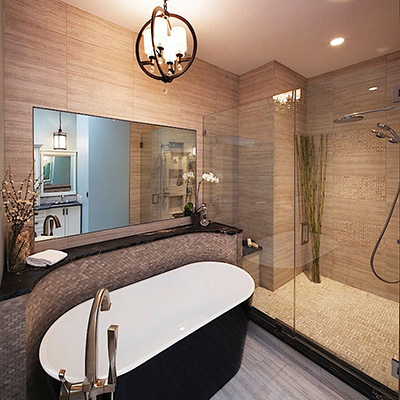 Six Piece Bathroom
These are rare, but they do exist. Six-piece bathrooms are usually only found in luxury homes. Double sinks are generally present plus an additional fixture. This can be a bidet, urinal, water fountain, or a double shower.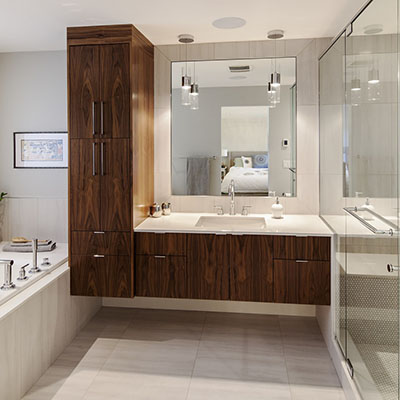 Master En-Suites
Within the past 30 years ensuites have gone from a luxury item to a necessity of life for many homeowners in Calgary. They are included as basic features on any new single-family homes. The most popular is a five-piece ensuite with a free-standing soaker tub, separate shower, secluded toilet area, and double vanity sinks. Ensuites have all the basic functionality of a bathroom, but they are designed for relaxation. It is almost having a private spa in your home.
Popular Bathroom Renovation Pieces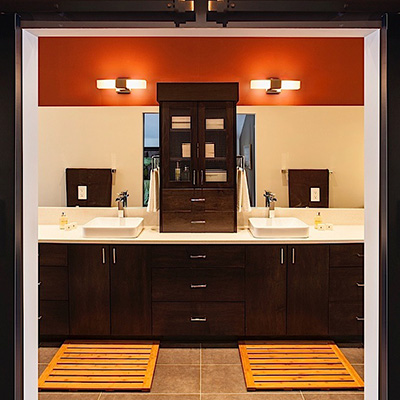 Double Sink Vanity
Double sink vanities have become omnipresent in most Calgary bathroom renovations. Considered as two pieces, they immediately increase the capacity of any bathroom. The master ensuite experience becomes more enjoyable with independent areas for each partner and shared family bathrooms can handle additional traffic. Even in smaller spaces, double sinks are considered a luxury and are worth considering in your bathroom renovations.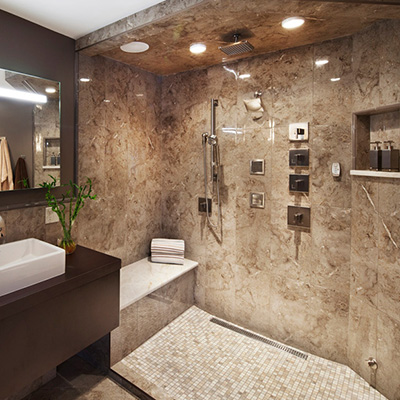 Rain Shower / Body Jets
Experience the serenity of a warm sun-shower within the comfort of your home by incorporating a rain shower-head into your shower design. Take it even further by adding body jets and let the water massage away the aches and pains you accumulate throughout the day. You will never want to leave the shower. These pieces are considered premium and very desirable. They will turn your bathroom into a personal spa. Ask about these pieces during the planning phase of your bathroom renovations.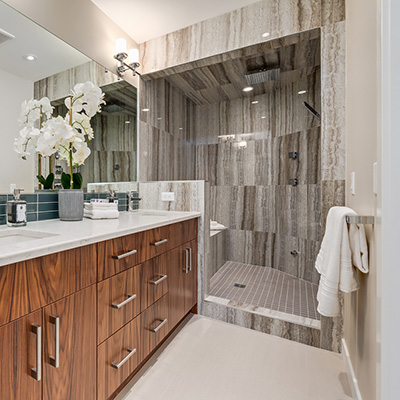 Steam Shower
Steam showers are a growing trend for bathroom renovations in Calgary. They require some space for the steam unit as well as a sealed shower enclosure to contain the steam. The result is your own personal steam room.