Calgary Kitchen Renovations
Don't get stressed planning your kitchen renovations. We are here to help. Whether you are renovating an existing kitchen or planning something completely new, there are a few things to think about. Over the past ten years we have been involved with diverse kitchen renovations in Calgary, both major and minor. Here we are bringing together everything we have to fuel your kitchen renovation dreams or help you plan a project. Remember, no renovation project is too small for proper planning and preparation.
Some Of Our Projects:
Kitchen Layouts
The scope of your kitchen renovations may be proportional to the age of your home. In Calgary, homes can be anywhere from brand new to over 100 years old. It wasn't until the 1960s that kitchens started being considered the main entertainment space in the home. Throughout the 80s and 90s kitchen sizes expanded and within the last 20 years layouts have really opened up, making kitchens the focal point of the entire home. Kitchen layouts in existing homes depend largely on the size of the home and the decade in which it was constructed. Changing the existing layout is always possible and often requested. These are the layouts we see the most:
1. One-Wall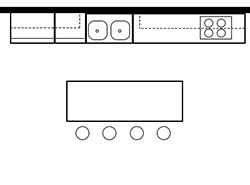 One wall kitchens are easy on space and on utility requirements with everything located in a main area along the same wall. They work well in homes with an open floor-plan and can be scaled down to accommodate smaller spaces like a studio apartment. They also work in long and skinny floor-plans. Open one wall kitchens opposite a kitchen island are a major trend in Calgary kitchen renovations.
2. L-Shaped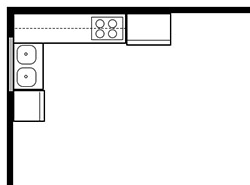 An L-shaped layout consists of countertops, cabinets, and appliances set against two perpendicular walls. This layout is popular on boxier floor-plans and is also scalable for smaller rooms. L-shaped kitchen on an outside wall are often designed around window openings to incorporate natural light.
3. Galley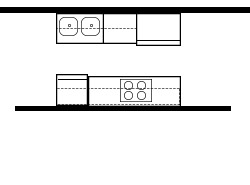 The galley kitchen is designed to be efficient with everything packed neatly along two opposing walls in a closed space. This layout can either have a wall at one end or be open on both sides, connecting the adjoining rooms. This layout is not conducive to entertaining guests. In most cases we are asked to remove a wall and open up with kitchen with a more favorable layout.
4. U-Shaped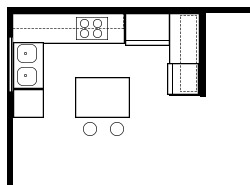 Similar to the galley layout, U-shaped kitchens are designed on the premise that the working area of the kitchen should be separate from the eating and entertaining area of the home. Unlike a galley kitchen, U-shaped kitchens are more open and visible, but it is still considered a one cook kitchen. Adding an island could provide additional work or eating space and make the kitchen more welcoming.
5. Islands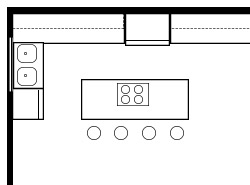 Kitchen islands began to take hold as a main design feature in the 1950s and have increased in popularity ever since. Beginning as an option for additional workspace and storage, kitchen islands have evolved to become a space for eating, doing homework, studying, and even working. The overall purpose of your island can be influenced by incorporating elements such as a range and hood vent, a sink, power outlets, and any number of seating configurations. A kitchen island often contains the most stunning visual features and is integral in the overall design of your kitchen and home.
6. Penisulas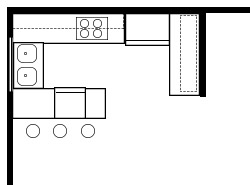 A peninsula aims to provide some of the added value of an island without requiring as much additional space. As the name suggests, a peninsula is attached to the cabinets or wall on one side and open on the other. Adding a peninsula to a U-shaped kitchen is sometimes called a G-shaped layout. This is a common kitchen renovation when space is limited.
Kitchen Styles:
Kitchens have become the main focal point in the home. They are central to our daily routines and a key part of our lives. The trend with kitchen renovations in Calgary is to create an open, welcoming environment with outstanding visual elements to match the tastes and lifestyles of the homeowners. We caution homeowners not to go to the extremes of any particular style or heavily commit to current design trends. A well-designed kitchen can increase the value of your home and your quality of life. Here is our take on some of the more popular styles for Calgary kitchen renovations.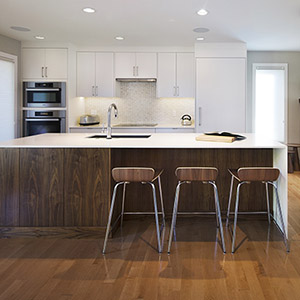 1. Modern
Modern design refers to an aesthetic that was popularized post World War II. The 1950s, or "mid-century modern", styles are often spoken of and continue to be appealing to homeowners today. The distinguishing features of these styles are clean lines, soft curves, and unique material combinations. There was a focus on functionality with minimal ornamentation and clutter. Modern design in 2010 and beyond places the same minimalistic value on functionality and incorporates many of the materials that defined the mid-century period. Technological advances and globalization have brought additional materials to create new combinations that are specific to our time. Whatever combination of materials are used, the style guidelines remain the same. Clean, straight lines in flooring, cabinets, and countertops. Flat surfaced cabinet faces have simple or no accessories.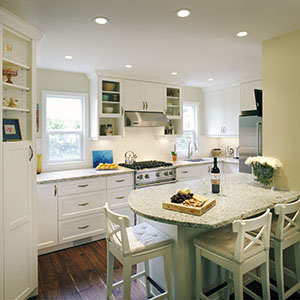 2. Country Cottage
This style values comfort over modernity as it focuses on capturing the simplicity of rural living. The "country charm" comes through in soft colour palettes, the use of textiles, and friendly patterns. Furniture and fixtures are distressed or worn and often reclaimed. Natural light is essential to capture the "cozy" country atmosphere. Light oak or maple wood is popular for flooring or cabinetry. Country cottage kitchens are more popular in the suburbs and rural areas of the city. Sometimes kitchen renovations involve preserving and maintaining the charm of the originally designed kitchen or elements thereof.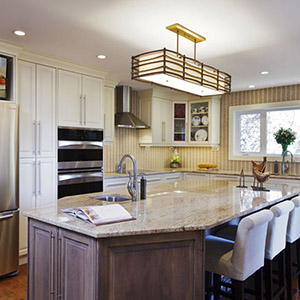 3. Contemporary
Contemporary design evolves with each new generation and can best be described as the style of the current time period. Contemporary kitchens bring together elements from different times and styles to add character to function. Since 2010 we have witnessed a strong push towards raw natural elements contrasted by the smooth surfaces and clean lines of modern kitchens. More non-traditional materials are being used in key areas such as counter-tops and back-splashes.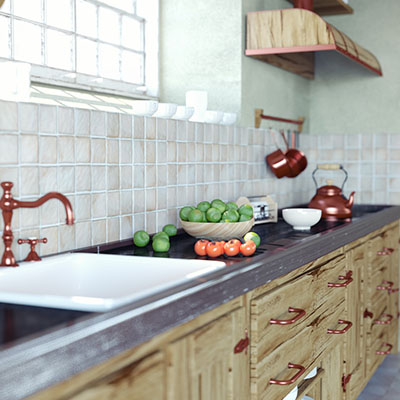 4. French Country
This would be the European counterpart to the American country cottage style. You can recreate the charm of provincial France. Natural materials and earth tones create a warm, casual atmosphere. Architectural elements are more ornamental with a sense of formality. This will come through in your kitchen cabinetry. Textiles are important and contribute to elegant upholstery and window dressings. Bar stools and chairs will likely be cushioned. Many kitchen renovations in Calgary use elements of this style, like exposed beams or natural, hand-scraped wood floors.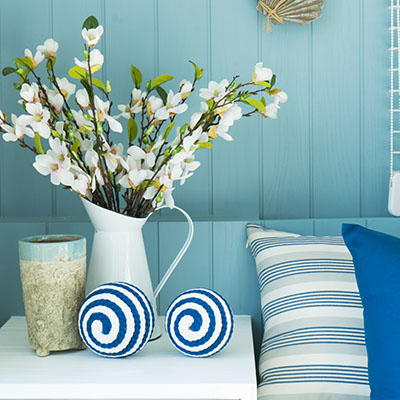 5. Coastal
A primary element of coastal kitchen design is colour. A white or cream base colour is ideal for accents of sea-inspired blues and greens. Open shelves and glass cabinet doors contribute to a casual, "fresh-air" atmosphere. Shiplap boards are popular for accent-walls and kitchen islands. A mosaic tile back-splash can mimic shells and treasures of the sea.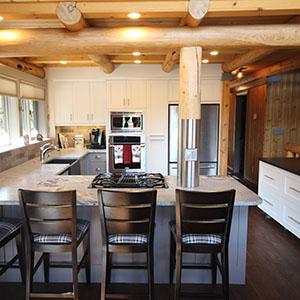 6. Old World/Rustic
Old World or Rustic design is another style that can be seen in certain elements of Calgary kitchen renovations. It is most evident in the finishes and furniture. The worn, broken-in look of wood, old fabrics, and wrought iron give the kitchen character and contrast the new, modern elements. Rough-hewn beams on the ceiling and the use of archways are also common old-world elements still used today.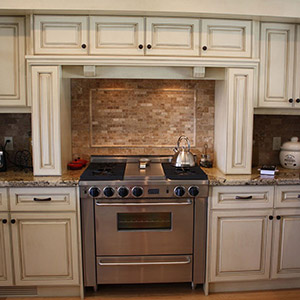 7. Traditional
Traditional style is what was used when the majority of homes in Calgary were built between 1950 and 2000. They are distinguishable by the profiles on the cabinet doors and countertops. Elaborate profiles were also used for the baseboards and trim. Clear varnish on natural oak was a staple design element throughout these times. A common kitchen renovation in Calgary is updating a traditional style to something more modern.