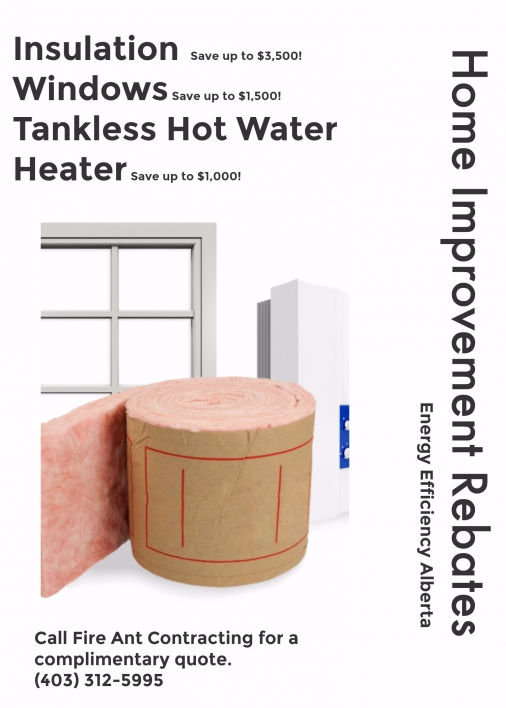 Fire Ant Contracting Ltd is very proud to announce we are listed as an approved, participating contractor for the Energy Efficiency Alberta Home Improvement Rebates programme.
This great initiative was launched to encourage Alberta homeowners to make energy efficient home improvements with a CASH back incentive!
Windows - Upgrade to new, ENERGY STAR® triple pane, low-e, argon windows at valuable savings. Installed correctly, window upgrades increase home value, increase air-tightness, reduce energy loss, and reduce road noise. Upgrading to ENERGY STAR® triple pane, low-e, argon windows will provide greater energy savings as the area of the home covered by windows increases and based on the current windows you have in your home.
Insulation - Improve the insulation in your attic, on your above-grade walls and in the basement for a more comfortable and energy-efficient home. Investing in insulation upgrades will increase your family's comfort, reduce your energy expenses, and increase your home's value. Best of all there's typically no maintenance: just energy savings and better comfort for decades.

Energy Efficiency Alberta's rebates are available for insulation added to a home's attic, main walls, basement or pony walls. Your rebate will be based on where the insulation is applied, how much insulation is added, and how many square feet receive the upgrade
Tankless Hot Water Heater- An ENERGY STAR®-approved tankless water heater gives your home the incredible advantage of never running out of hot water—and it's the most cost-effective way to heat water to boot. Tankless hot water systems take up less space, waste less energy and may even provide hot water faster than conventional systems. Domestic hot water upgrades to ENERGY STAR® tankless systems present a tremendous energy-saving opportunity over older, storage tank systems, especially those equipped with standing pilot lights.
Please visit the website to find more information. Please contact us to get a complimentary quote. (403) 312-5995 This email address is being protected from spambots. You need JavaScript enabled to view it.